Groovy
Wednesday October 24, 2018
Apache Groovy committer Graeme Rocher receives Oracle Groundbreaker award
The Apache Groovy team congratulates long-time Groovy committer Graeme Rocher on receiving his Groundbreaker award at Oracle Code One. Graeme has made numerous significant contributions to Apache Groovy and has also founded two of the most important frameworks using Groovy: Grails and Micronaut.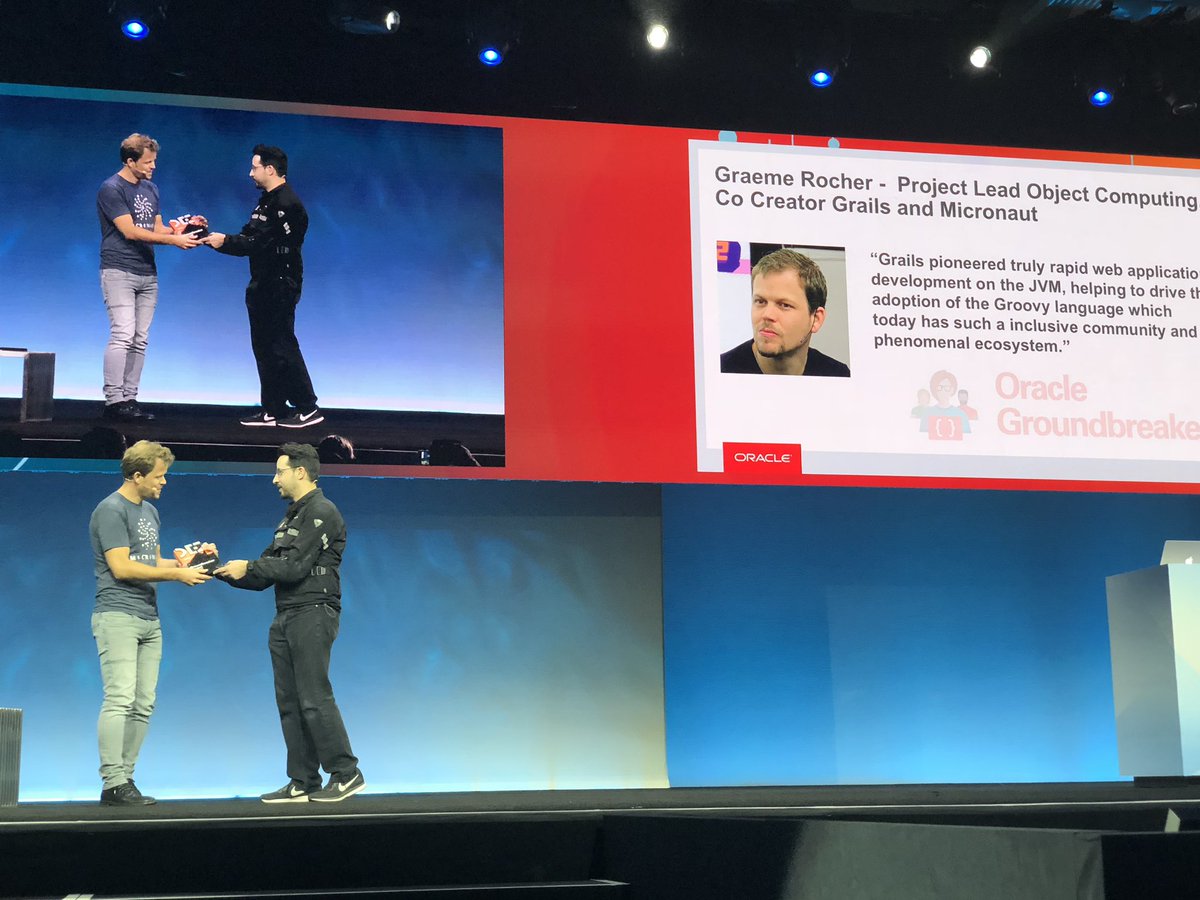 "Grails pioneered truly rapid web application development on the JVM, helping to drive the adoption of the Groovy language which today has such an inclusive community and phenomemal ecosystem".
Posted at 11:33PM Oct 24, 2018 by paulk in General | |
Sunday October 14, 2018
GMavenPlus 1.6.2 Released (Community Artifact)
GMavenPlus 1.6.2 has been released. GMavenPlus Plugin is a rewrite of GMaven, a Maven plugin that allows you to integrate Groovy into your Maven projects. Basic usage can be found on the usage page, with additional usages on the examples page. For more information, consult the wiki.
Posted at 10:00PM Oct 14, 2018 by Remko Popma in General | |
Groovy 2.5.3 Windows Installer Released (Community Artifact)
The Windows installer for Groovy 2.5.3 (community artifact) is available from: https://bintray.com/groovy/Distributions/Windows-Installer/groovy-2.5.3-installer.
Posted at 09:47PM Oct 14, 2018 by Remko Popma in General | |
Groovy 2.5.3 Released
Dear community,
The Apache Groovy team is pleased to announce version 2.5.3 of Apache Groovy. Apache Groovy is a multi-facet programming language for the JVM. Further details can be found at the http://groovy.apache.org website.
This release is a maintenance release of the GROOVY_2_5_X branch. It is strongly encouraged that all users using prior versions on this branch upgrade to this version.
This release includes 50 bug fixes/improvements as outlined in the changelog: https://issues.apache.org/jira/secure/ReleaseNote.jspa?projectId=12318123&version=12343876
Sources, convenience binaries, downloadable documentation and an SDK bundle can be found at: http://www.groovy-lang.org/download.html We recommend you verify your installation using the information on that page.
Jars are also available within the major binary repositories.
We welcome your help and feedback and in particular want to thank everyone who contributed to this release.
For more information on how to report problems, and to get involved, visit the project website at https://groovy.apache.org/
Best regards,
The Apache Groovy team.
Posted at 09:43PM Oct 14, 2018 by Remko Popma in General | |